03/02/2022 07:00 AM Central
Cindy Dement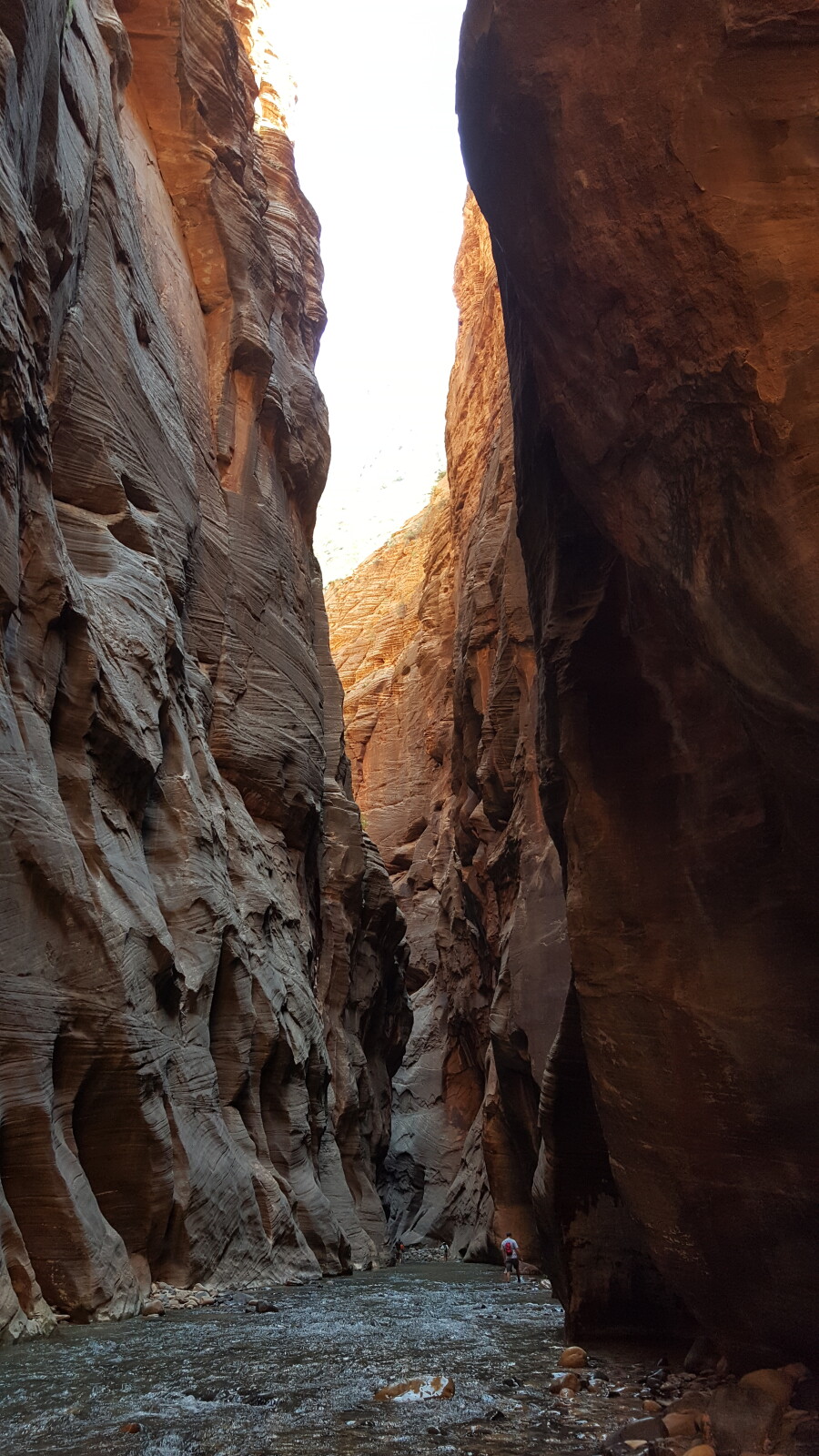 I had met my goal of walking in The Narrows, now what? Walk a few minutes and turn around and go back? I had reached the river. I had walked in The Narrows! Now was a good time to say goal met, and on to the next!
Continued from 2/23/22…
Not a chance! A new goal had formed at some point on the trip to Utah. I had been studying the map of Zion National Park and The Narrows. I had read about a place in the river known as Wall Street! In this area of The Narrows there is no longer dry ground, but you must walk in the river continually! Some areas in Wall Street you must swim.
Mind you, I didn't want to go any further than the beginning of Wall Street. But I wanted to get that far! I had read the map and knew this was considered a strenuous hike, not for beginners. (By the way, I did not inform Michael of this little detail until after we were out of Zion.) Still, I believed I could make it.
And make it I did with Michael at my side! Upon arrival, I took some pictures. We then walked up into side canyon a little way in and back out, sat on a log for a few minutes, then headed back.
I had hoped the walk back would be easier. I reasoned I would not be fighting the current going down river. My hopes were dashed as we headed back. The walk appeared to be as difficult if not more so. This was in part due to the fatigue that had overtaken me. And now the current wanted to sweep my feet out from under me as I walked with it.
Somewhere on the way back, I had to stop and have Michael pull the neoprene socks off my feet. They were cutting into my ankles and making my legs hurt. Now my boots were too big with a perpetual layer of sand in the bottom of them.
We finally came around a curve in the canyon and saw that little beach where we had started. Gratitude filled my heart! I had made it! Little did I know the climb back up to the canyon rim would be almost as difficult!
Completely fatigued and going uphill, wishing for an elevator, I started to notice a change in the temperature. What had been a cool morning in the low 60's had turned into a hot 107-degree afternoon. As we climbed up the mountain the temperatures followed suite!
In all it took us 7 hours to walk 7 miles! Those were the most difficult physical hours I have ever endured. They were also the most exciting and blessed hours. I learned so much about myself during that walk.
I can do anything I set my mind to. I had so many opportunities to stop and go back. But I pressed forward.
2. I should press toward my dreams when they are new! How much more would I have enjoyed that walk in my thirties?
3. It's never too late until my time is up. Yes, I would have enjoyed the walk more in my thirties, but you can't take from me what I did. I will never forget that walk or the lessons it taught me.
4. I may come close to falling, but if I use the tools at hand, I can steady myself for the rough road ahead. Much like that walking stick steady my feet on the riverbed rocks.
5. Sometimes I need to stop and adjust my equipment. Those neoprene socks were killing me. It was better to feel that sand than to feel the pain.
6. The little irritations are not so bad when you are living out a dream. Those small grains of sand were not a big deal, I was walking The Narrows! Even those neoprene socks that dug in at my ankles were bearable for a time.
7. My pace may be different, but my outcome will still be success if I keep pressing forward! We saw so many young people running across those rocks and were amazed they didn't fall! Yes, it took a while, but success was still my outcome.
How about you? Do you have a dream you have held onto for a while? What are you waiting for? If it's important, find a way and do it. Don't let the clock run out. Do it while you can. Even if you think you are too old, too broke, or too whatever, stop putting it of and go for it!